The Future of Medical Cannabis Evaluation Has Arrived for New Yorkers
NuggMD's easy and inexpensive medical cannabis evaluation service will help get you New Yorker's mmj relief in no time.
The Future of Medical Cannabis Evaluation Has Arrived for New Yorkers
NuggMD has extended its online
medical marijuana evaluations
service into the great state of NY. Patients can now enjoy access to
New York medical marijuana doctors
and 420 resources from the comfort of their homes, creating an incredible convenience for those seeking alternative treatment for their ailments.
How do I buy cannabis?"
and
Is a medical marijuana card still required?"
used to be common unknowns in the golden state. But NuggMD has changed that, and is doing the same for New York.
Thanks to the recent passing of Assembly Bill
6357
, you can easily obtain your certification online from a state-licensed doctor. No need to google
medical marijuana evaluations near me"
and
"medical marijuana dispensaries near me"
anymore.
Get your New York State medical marijuana card in record time
The process is quick and convenient. All you need is a smart phone, computer or tablet, must be a legal New York resident, and a have state-issued identification. Then fill out the online application, which includes a
simple medical questionnaire
and
a short video conference call
with a state-licensed doctor.
What happens during the video conference call?
This call will accommodate your schedule and address your medical condition(s). The doctor will answer any questions you have, plus recommend dosages and medicating methods.
When do I get my medical marijuana ID card?
Once you're approved, you'll pay a
one-time certification fee of $199
. If you aren't, you will
not pay any fees.
Can't beat that!
A hard copy of your recommendation and ID card will arrive by mail in a few days; not to mention you get full access to NuggMD's online cannabis news and services.
After one year, you'll need to renew your
medical marijuana prescription
for a mere
$99.
Once armed with your doctor's certification and MMJ ID card issued by the New York Department of Health, just search online for
"medical marijuana dispensaries near me"
to find one of the registered organizations (dispensaries) near you!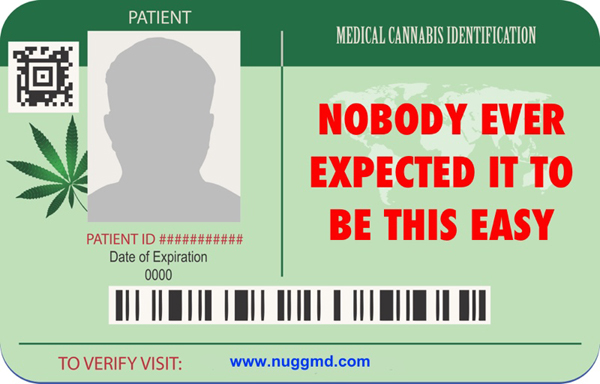 What conditions quality for medical marijuana use in New York?
Unlike other states, such as California, where you can obtain an mmj card for almost any medical reason, NY has stricter laws. To qualify, you must suffer from one or more of the following conditions: AIDS, HIV, Parkinson's Disease, Neuropathies, Multiple Sclerosis, Cancer, Chronic Pain, Inflammatory Bowel Disease, Epilepsy, Huntington's Disease, or Lou Gehrig's Disease.
Why is NuggMD the best choice for obtaining a medical marijuana card?
Lazy? Don't want to get out of bed? Embarrassed to visit an actual doctor where someone you know might spot you? With NuggMD, you don't have to leave home to get your New York medical marijuana card and access to the finest THC products. It couldn't be easier.
Get Access now to the incredible range of cannabis products on the market -- flowers, edibles,
vape cartridges
, tinctures, oils, rubs, and more!
Comments
MUST READ NEWS
VIDEOS
---